What ist RehaGait?
RehaGait is a completely portable system that takes minutes to set up. In just moments, you can record, analyze and report on one's gait patterns which makes it ideal for clinical and scientific gait analysis.
Structured subjective observation is the key element of gait analysis. Being able to examine gait from top to bottom and acknowledge any problems has long been seen as the quickest and most effective way. RehaGait is designed to quantify the observation. The technology can be used to track interventions over time with a measureable reporting that is increasingly required to receive objective data. The flexibility of the RehaGait system allows the user to get fast, accurate measurements in everyday situations. The RehaGait system includes easy to use and intuitive software that allows you to review the data quickly and to make adjustments to your analysis.
What does RehaGait do?
RehaGait is designed to strengthen subjective diagnosis by quantifying and refining what can be seen and helping to detect and track changes over time. RehaGait comes with up to 7 MotionSensors which can be fitted to the feet, lower legs, thighs and hip. The ideal walking distance is about 10 meters. During walking, the foot movement is measured, especially the patterns of acceleration and angular velocity.
What are the advantages of RehaGait?
Objective results, combined with integrated video capture function allows you to monitor the individual's condition, determine problem areas, assess the gait pattern and identify asymmetries in the lower limbs.
Intuitive handling

Objective data

Mobile use

Complete freedom of movement

Results and course of the time are shown graphically

No need for a gait lab, you can use it on the clinic floor, on a treadmill or outside
Analysis of gait pattern
Detailed analysis supplies information on the functional aspects of movement. By comparing the results with reference values, problems can be identified and evaluated.
Compare multiple analyses
The progress made and the success of treatment can be documented during the process. "Pre" and "Post" measurements are represented as graphs, allowing a direct and easy comparison.
RehaGait for scientific purposes
The recording of motion data plays a decisive role in clinical research. Regular data recording illustrates progress and can therefore provide important input for further decision-making processes.
How does RehaGait work?
RehaGait is the ideal system to support and evaluate gait patterns. The detailed analysis provides information about functional aspects of movement. The comparison with reference values allows to identify deficits on point.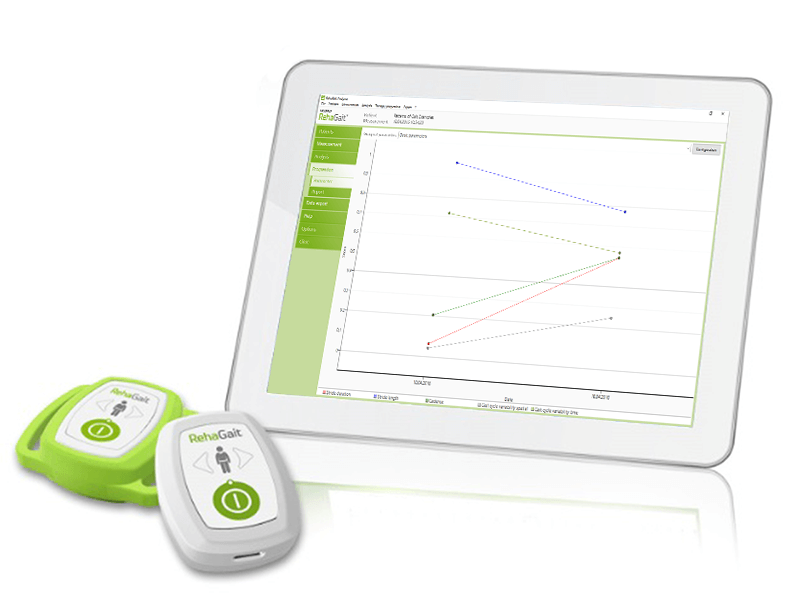 How does the RehaGait Software work?
The RehaGait software comes pre-programmed on the included Windows tablet, this intuitive system allows you to perform the recordings quickly and easily and view the gait patterns on the tablet. All the most common functions are presented in an easy to navigate left-hand menu rather than buried in multiple complex menus. A custom report can be generated within minutes of your subject walking through the door!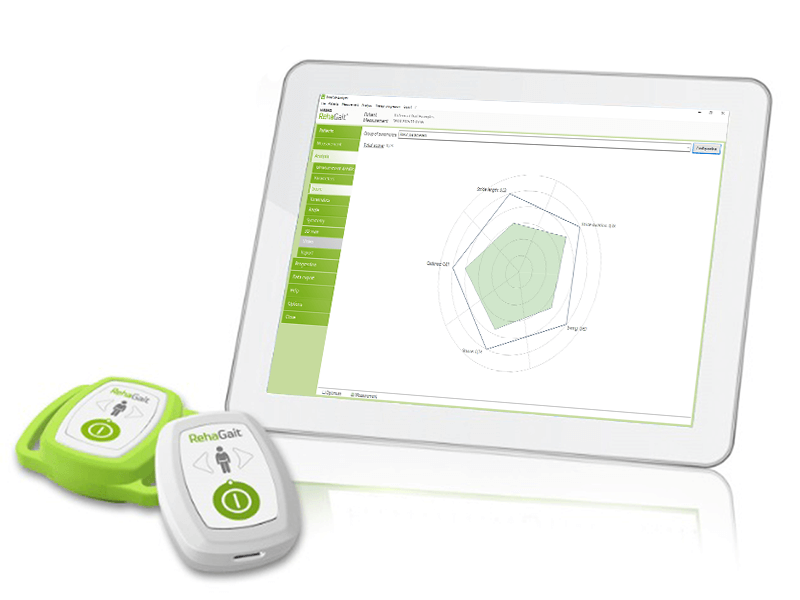 What data will I receive after a 10 step gait cycle?
RehaGait includes an easy to use and intuitive software that allows you to review the data and make adjustments to your treatment program. Many different parameters can be analyzed, such as stride duration, stride length, cadence, number of analyzed steps, as well as velocity and angles. After a successful analysis, you will find the flow charts, diagrams and graphics sorted by parameter group.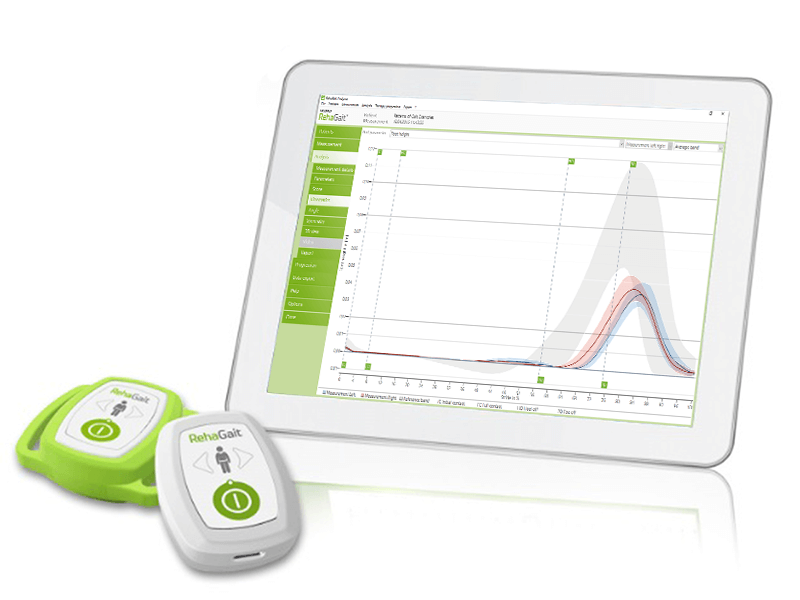 How is the Kinematic displayed?
The kinematics of individual steps are displayed for such parameters as foot height, ground clearance, circumduction, velocity and acceleration. The representation of the left foot is displayed in blue and for the right foot in red. The mean value band (brightened hue of the respective side) represents the respective minimum and maximum of each step, the line representing the corresponding mean value. With the right selection box, you can also display the individual steps next to each other. A grey band in the background represents a reference range that is calculated for each percent in the gait cycle from the respective 5th to 95th percentile of a healthy reference group.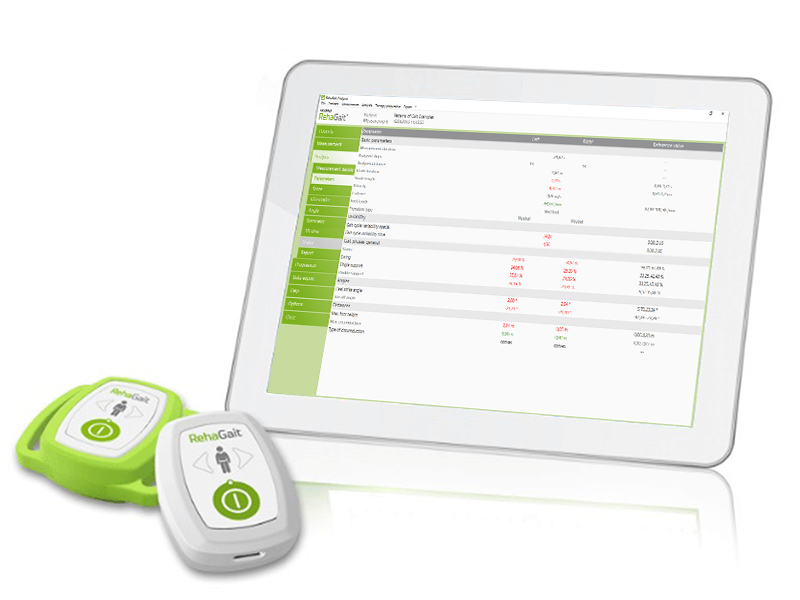 How does the comparison work?
RehaGait software uses a database for user management and storage of analysis results. In this way, the user has at any time access to all measurements in order to compare them to each other or to present and evaluate progress parameters.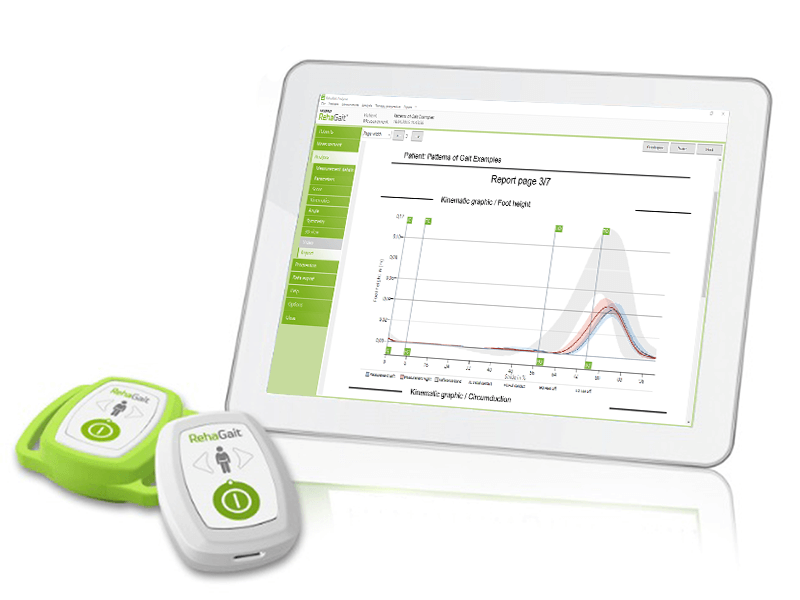 How does the report work?
The system gives the user the ability to export information and work with them in a multidisciplinary sense. To report your results, you can create and print a report. The report is created for the analyzed measurement of the selected individual. If you have analyzed two measurements for a comparison, both measurements are shown in the report.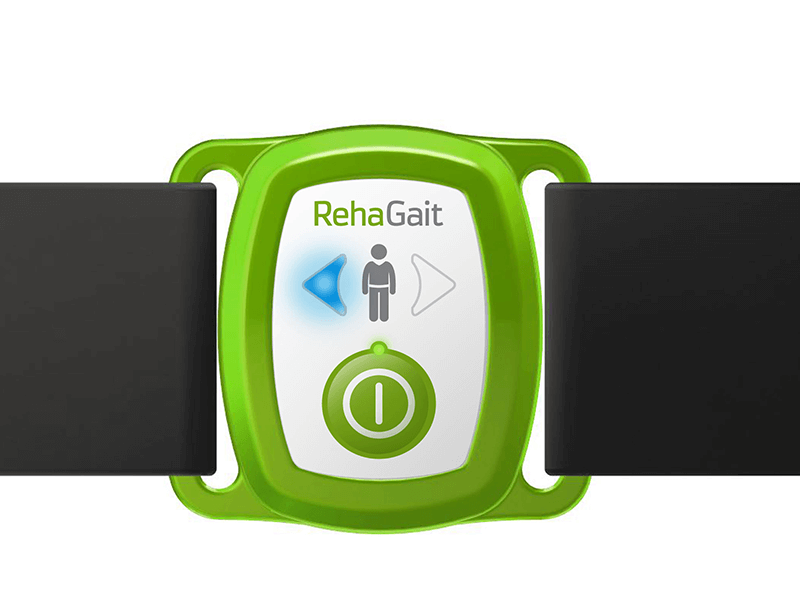 What is a Motion Sensor?
The RehaGait Analyzer is equipped with up to 7 inertial sensors, which record spatio-temporal specific parameters during walking. They are connect via Bluetooth to the tablet software and can be read from up to 20 meters away. These sensors utilize the inertia of the mass to detect movement changes and consist of a three-axis accelerometer for recording the linear acceleration, a three-axis gyroscope for recording the angular velocity and a three-axis magnetometer for recording the earth's magnetic field. Depending on the product option, the MotionSensors can be attached to the human body at 2 or 7 points. In the Analyzer 2.0 version these include the user's feet and in the Analyzer Pro 2.0 version additionally the hips, knees and ankles. The accuracy is clinically valid according to the gold standard and has been published several times in scientific studies (e.g. Schwesig et al., 2010, Donath et al., 2016).
Do you already know the newsletter of HASOMED GmbH? Here you will receive all information about updates, product enhancements as well as current offers and dates.
How can I get to know RehaGait?
The UN forecasts a world population of more than 9.7 billion people by 2050. A challenge for medical care and a task that physicians and manufacturers of medical technology can master together. Medica 2019, World Forum of Medicine, creates the link between medicine and medical technology, present and future. HASOMED is there.
There are no upcoming events to display at this time.
Which RehaGait versions are available?
HASOMED offers two options for mobile gait analysis. To use RehaGait effectively, motion sensors and the special RehaGait software are required.
RehaGait Analyzer 2.0
Mobile Gait Analysis with 2 MotionSensors 2.0 includes:
&nbsp
1 analysis Software for MS Windows
1 Windows Tablet incl. protective cover
2 foot holders (left/right, size 34-48/EU/Type 2.0)
2 USB-charging adapters for MotionSensors 2.0
1 manual + transport case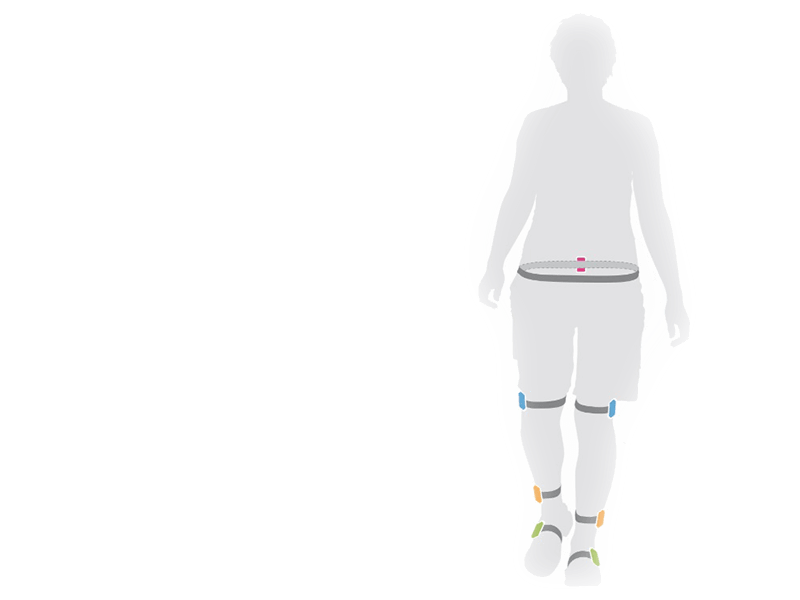 RehaGait Analyzer Pro 2.0
Mobile Gait Analysis with 7 MotionSensors 2.0 includes:
1 analysis Software for MS Windows
1 Windows Tablet incl. protective cover
2 foot holders (left/right, size 34-48/EU/Type 2.0)
2 lower leg holders (Type 2.0)
2 thighs holders (Type 2.0)
7 USB-charging adapters for MotionSensors 2.0
1 manual + transport case
What parameters does RehaGait record?
Analyzed steps

Analyzed distance

Stride duration

Stride length
Cadence

Gait phases

Heel strike and Toe off angle

Circumduction
Ankle joint angle (Pro Version)

Knee joint angle (Pro Version)

Hip joint angle (Pro Version)